A must-read guide for meat-lovers who want to embrace healthier eating habits.
For many meat lovers, plants serve just as a side to crispy chickens and juicy steaks. 
However, recent studies have proved that diets rich in animal-sourced foods, such as meat, eggs and cheese, might contribute to a higher risk of stroke, heart disease, dementia and certain types of cancer. 
On the other hand, plant-based diets help keep our mind and body strong and healthy. Vegetables, seeds, fruits, whole grains and legumes reduce cholesterol, improve heart health, make the skin glow and boost environmental sustainability too!
If you take a look at the plant-based world, you'll be amazed by the abundance of recipes and meat substitutes out there! It's a new world with exquisite tastes and delicious product combinations.
General Healthy Eating Guidelines
Ready to try out a plant-based diet and rape its health benefits? Here's your guide!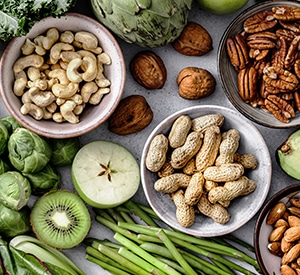 1. Try plant-based clean eating for a few days
Changing your eating habits from one day to the other won't work. You need to take one step at a time to build a routine. What about starting with one plant-based meal per week and then increasing to two or three times a week?
Choose your favorite plant-based products and search the Internet for mouth-watering recipes based on those ingredients. Put your creativity and imagination to work and you might come up with a delicious new flavor combination that your friends and family will love!
2. Make a list of plant-based products
Don't wait until you reach the grocery store to think of what plant-based food includes. Get yourself familiar with the wealth of plant-based ingredients suitable for eating and drinking.
Stick the list on your fridge or take it with you when you go grocery shopping!
Examples of plant-based foods
Vegetables

– kale, lettuce, spinach, microgreens, silverbeet, fresh herbs, cabbage, brussels sprouts, broccoli, sweet potato and tomato.

Fruits

– avocado, strawberries, watermelon, apples, oranges, pears, bananas, berries and peaches

Nuts

– pistachios, walnuts, cashews, almonds, macadamia nuts, hazelnuts and Brazil nuts.

Whole grains

– brown rice, quinoa, whole-wheat bread, cereals and pasta, oats, popcorn, barley and farro.

Super seeds

– hemp seeds, chia, flaxseed, sunflower seeds, sesame seeds and pumpkin seeds.

Beans

– chickpeas, black-eyed peas, black beans, fava beans, red beans, lima beans, lentils, soybeans and peas.
Examples of plant-based beverages
Smoothies and juices made of vegetables and fresh fruits

Coffee

Tea – chamomile, ginger, green, lavender, etc.
3. Don't forget the proteins
Not all grains and veggies are rich in proteins. Thus, people trying to adopt a healthier, more plant-based lifestyle should make sure they meet their daily protein requirements.
Quinoa, beans, lentils, nuts, mushrooms, chia seed, tofu and spirulina contain a lot of protein.
4. Change the way you serve meat
For most meat lovers, meat is the centerpiece of their dishes. 
But if you want to experience the plant-based way of eating, think of having meat in smaller amounts. You can make chicken, beef, or pork the garnish of a "greener" dish.
5. Have fresh fruit or vegan chocolate for dessert
Most of us crave a sweet bite after a meal. Have you tried vegan chocolate made with all the power of cocoa but no milk?
Alternatively, go for a healthy, crisp apple, a juicy melon or a refreshing bowl of berries and grapes. There are so many alternatives to satisfy your sweet tooth while keeping your body and mind healthy.
Are you looking for the best place in Nicosia to get a taste of authentic, homemade and fresh plant-based recipes?
Look no further than Elysian Plant-based Kitchen Bar, the first 100% plant-based restaurant in Cyprus' capital. Visit alone, with your friends, family or colleagues and embark on an unforgettable culinary journey that will help you build healthier eating habits!